Water, Weather and Environment
We provide the tools and advice to help you tackle the many challenges in monitoring water, weather, and the environment. These tools ensure you gain situational awareness and forward-looking insights; make data-driven decisions; and publish information to your team and the outside world.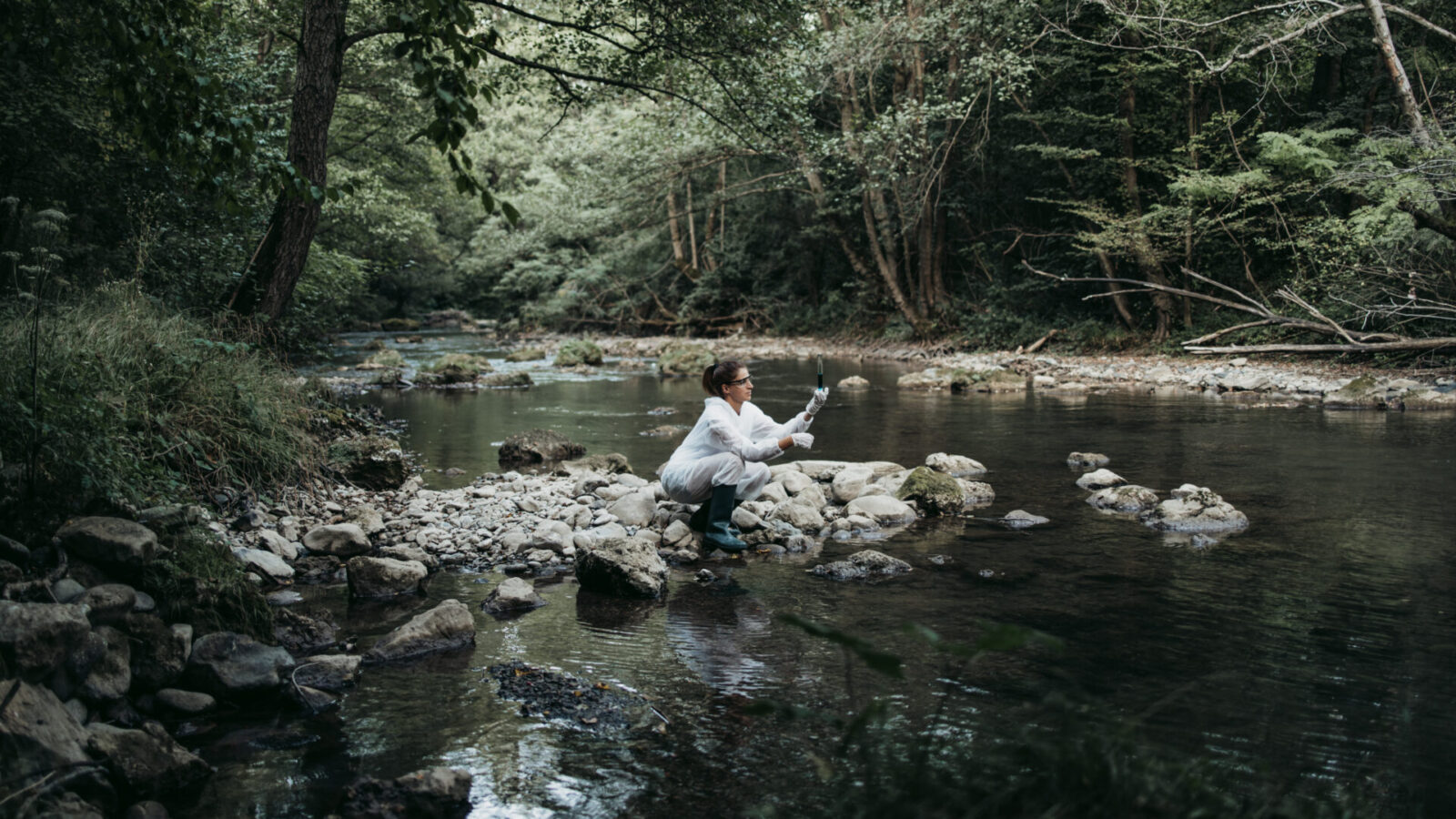 Market leading. Easy-to-use. Flexible.
We develop reliable, robust sensors and comprehensive software solutions that make working with environmental data easy. Our tools make it easy for you to measure, explore, and gain valuable insights for decision making with reliable and accurate data. Whether you are an expert, occasional user, or decision maker – we'll get you the right data when you need it and how you need it. Our products also let you share your data easily within your organisation and the public in easy-to-digest formats.
View Products & Services
Discover our mission.
Empowering businesses to meet water, weather and environmental challenges through data-driven solutions.
For over 60 years, KISTERS has been dedicated to one mission: To empower customers with technology that delivers reliable data for effective environmental monitoring.
Data is our guiding light, moving us from uncertainty to informed decisions. It's the catalyst for optimising business, protecting nature & paving the way for a harmonious world. That's why at KISTERS we're committed to providing others with the data they need to make those decisions that will keep our world thriving.
Learn more
A wide range of leading environmental hardware products
We manufacture, sell and install quality instrumentation, water and weather sensors, data loggers and IoT technology.
With over 60 years in this field, our products are designed with quality, accuracy and robustness in mind – so you can spend less time worrying about gathering data and more time working on solving the problem.
Browse Hardware Catalogue
Our expertise
Meteorology and climatology

Plan operations and protect assets and life through accurately monitoring localised weather events

Meteorology and climatology

Measuring, managing, and analysing meteorological data is critical for data-driven operational decision making, regulatory and climate reporting, and long-term planning alike – and is getting even more important due to the growing unpredictability of climate change. In the end, data must be representative and precise, and be available in the formats and timeframes relevant to your final application.

What we do

Our holistic view of meteorological data collection, processing, presentation and dissemination ensures that you can effectively solve your meteorological and climatological data needs – from gaining full awareness of the current local weather all the way to using meteorological data for decision making and planning.

Subject matter experts

Our experts in meteorological sensor design, production, and installation are deeply familiar with the intricacies of measuring precipitation, air temperature, relative humidity, wind, other meteorological and hydrological data and even hail. With 1000s of meteorological sensors deployed worldwide, we'll use our expertise to provide a solution that fits your needs.

Our meteorological data experts have also worked as end-users in operational settings and know the particulars of this type of data – how to process it properly and how to present it for the meteorology community and other end-users. We've incorporated this expertise into our data visualisation, data management and decision support software to ensure that the data ultimately presented or disseminated, passes scientific and operational standards. Our software is in operational use at many meteorological institutions across the globe and gives testament to our related expertise.

Surface water, groundwater and hydrology

Accurately measure and report what happens in the soil, streams, lakes, and reservoirs important to you

Surface water, groundwater and hydrology

What we do

We create data driven solutions that fit your custom needs – These solutions are created to collect data so that you can focus your time on inspecting it and analysing it.

Through our extensive knowledge on surface water monitoring and data management, we can efficiently measure and report what happens in the streams, lakes, and reservoirs as well as complete important hydrologic analyses or guide flood responses.

Why this is important

The water levels in lakes and reservoirs and flows in creeks, rivers, and streams, depict much of the hydrological status of our watersheds (groundwater and water in snow and soil are the other components). This information is a prerequisite for water resources applications, operational and long-term planning, as well as flood management. Measuring water levels and flows requires, just like measuring meteorological data, appropriate sensors, data loggers and telemetry equipment. Quality controlling and preparing them for further use, visualisation, and dissemination necessitates a robust data management software with sound hydrological functionalities.

Why us

We've developed sensors to measure water levels and flows based on the extensive in-the-field know-how of our monitoring experts.

Combining this with scientific rigour and our engineering skill in design, we link these sensors with our data loggers and telemetry systems to provide a robust and reliable data feed into a data management system – either yours or ours.

Subject matter experts

Recent advances in software development make it relatively easy to develop databases to house and software to visualize your water data. But, making the software that reliably does the right thing requires software development skills and operational experience with water data and a scientific water resources and hydrology background.

Our hydrologists and water resources engineers work closely with our software developers to ensure its proper functioning for hydrologic and downstream applications (such as operations optimization). You are free to use our software to tackle your challenges – we take care of the rest.

Our groundwater experts support groundwater managers to integrate and analyse the data they need to effectively manage groundwater resources – helping you to make better decisions by ensuring timely, error-free and accessible data. Our groundwater experts are trusted by water agencies around the world and the data for over 500,000 groundwater wells is managed by our solutions.

Water quality and ecology

Sample, observe, review and report on your water quality and ecological data – whether in the lab or in the field

Water quality and ecology

Why us?

Our water quality and ecology products and services are built by experts for experts so that you can monitor the environment and not the software.

Why is this important?

Water quality and ecological observations come in many forms, from automated measurements, to lab results and to field notes. They also come in a wide variety of parameters that are measured in different ways and must be handled accordingly. We build our software to manage this type of data so you can use, manage, process, view and disseminate it in the right industry standard format.

Subject matter experts

We have very experienced and accredited water quality experts, ecologists and biologists among our team. They help us design and develop the sensors to measure water quality, and the accompanying water quality and ecology software components that seamlessly fit into our overall water data management software landscape.

Together with our sensor and telemetry experts, our software developers and our data scientists we provide you with the hardware and software you need to watch out for our own and our environment's health.

Rainfall and flow forecasting and warning

Use rainfall, flow, and water level forecasts to plan operations and warn of and manage impending storms and flooding - for hyperlocal urban settings to large catchments

Rainfall and flow forecasting and warning

Increased climate variability results in more extreme events, from local heavy rain and flash flooding to ever larger flood waves in our streams – Not to forget the longer and more severe droughts we face in many parts of the world. Preparing for these hazards and mitigating the risks is paramount in protecting lives, livelihoods and our economy.

Rainfall, flood, flow, water availability, and drought forecasting are cost-effective tools that are widely used today.

We are experts in the intricacies of forecasting

From watching the local weather person on TV, we know that forecasts are not always correct. Still, they are useful and can provide valuable information for decision making – from knowing when to bring that umbrella to preventatively releasing water from dams or preparing for a dry summer. The key is that this information is provided reliably and sufficiently ahead of the (flood or drought) event to be able to act in time.

Our meteorologists and hydrologists are experts in creating and interpreting weather and flow forecasts and build the software tools that effectively deal with the many intricacies and nuances of operational real-time forecasting.

Making forecasts accurate, reliable, and useful for you

Combining real-time information, such as rainfall and flow observations with weather forecasts and purpose-built models is the heart of implementing a robust forecast system. Our hydrologists configure, link, and integrate a wide variety of hydrological, reservoir operations, basin management and hydraulic models into our data management software to fit your precise forecasting needs. Based on the current state of the soil and snow coverage and weather forecasts (rainfall and temperature), these models produce flow, water level, reservoir storage and inundation forecasts for a variety of uses. These include warning and managing imminent flooding, operating reservoirs to follow regulations and maximise water availability and hydropower generation, as well as preparing for droughts.

Forecasts are only as good as the information they provide. Being aware of the intrinsic uncertainties and limitations of forecasting we develop our software to provide these data in easily interpretable and action-focused formats reliably during good and adverse conditions. This includes providing the right information at the right time, notifying forecasters, decision makers, emergency management personnel, and the public with actionable information.

Our promise

You can concentrate on the results and go to action – we take care of the processing and modelling behind the scenes and can even host your system in our state-of-the-art data centre.

Hydropower, dams and reservoirs

Optimise your operations and maximise water supply and revenue while protecting your dam and meeting regulatory constraints

Hydropower, dams and reservoirs

Reservoirs are some of the most critical infrastructure to manage our water resources. In storing water during wet times they allow for water supply during dry times. Plus, they can provide valuable storage space for flood waters and are often used to provide hydropower as contribution to our clean renewable energy needs.

Monitoring dams for structural integrity and operating them for flood management, water supply, hydropower, recreation, while meeting regulatory requirements, is getting more complex during times with increasing climate variability. This can be done via reservoir operation optimisation – using forecasts of inflow as well as pre-defined objectives and constraints to automatically determine the optimal release of water in the short- and long-term future.

Optimisation by experts for practitioners

Our data scientists and mathematicians love optimisation and, in concert with our hydrologists and water resources engineers, we have developed algorithms for applications ranging from optimising 'smart' stormwater detention ponds to managing systems of large multi-purpose reservoirs. We apply this practical knowledge to further develop our solutions to provide actionable information and guidance both to decision makers and dam operators.

No one-size fits all.

Real-time operations optimisation has many facets, and we apply the right ones to the right problem to deliver robust and meaningful solutions. Some applications can be solved with 'simpler' algorithms, while others require full fledged data assimilation and hydraulic approaches. We know which one to choose and to implement within our larger ecosystem of water data management and forecasting software.

Our promise

Our optimisation tools are duty tested and are tailor-fitted to your problem.

Agriculture

Monitor what happens in your fields to ensure crop health and achieve optimal crop growth

The pressure on our food system is mounting under climate change, soil degradation, water scarcity and an often-burgeoning population. We see small farmers and agricultural businesses alike are optimising more and more their use of water, seeds, fertiliser and pesticides to increase production while decreasing their environmental footprint.

End-to-end expertise

We develop both the sensors and the software to monitor what is happening below and on top of fields. Combining this expertise, we can offer rainfall, hail, evapotranspiration, leaf wetness and soil moisture observation hardware, complete with technology to send measurements to the cloud (or your servers) and applications to monitor and visualise this data.

Listening to the those on the ground

We love listening to our clients and translating their expertise and in-the-field-needs into our hardware and software solutions. We learn what works 'in the real world' and what information must be presented when and in what way to provide the most actionable benefit to those who grow our food.

Our promise

We make it easy for you – everything you need from a single vendor.

Drainage and Wastewater

Monitor, report on, and predict the performance of your canal, water retention and waste water treatment assets to achieve maximum compliance and outcomes

Ever more erratic rainfall is straining our drainage and waste water infrastructure, while reporting requirements and energy costs increase. Knowing how much water is where in the system, and how the pumps (and other mechanical devices) perform is paramount to mastering this challenge.

Situational awareness – we make it happen

Our drainage and wastewater experts have guided agencies that manage stormwater canals and wastewater treatment plants on monitoring their assets and using the collected information to operate their infrastructure more effectively. New monitoring technologies – like the Internet of Things (IoT) – is becoming more affordable and allows monitoring of flows and treatment process at hundreds of locations. We can not only supply the associated sensors and communication equipment, but can also integrate data flows from any existing control and SCADA systems as well as publicly available weather data into our tools. This provides unparalleled insights into what is happening in your system, but also what is happening around it.

Combining water data management with smart analytics

We can help you increase operational efficiency and reduce energy and maintenance costs. We couple our data management system with advanced analytics to estimate unmeasured data, assess pump efficiencies, and predict required maintenance. This provides you the guidance needed to achieve your operational and financial goals.

Our promise

We help you make the best out of your data to assure continuous and efficient operation while minimising costs.

Digitisation

Avoid costly storage and finally use the data in your paper records - we'll digitise and validate them for you

We have been collecting weather and water level information for many decades. While these days most of this monitoring occurs electronically, past collection efforts have resulted in (literally) long paper records. These must be stored appropriately, often at high costs. Plus, the invaluable information recorded there is not easily accessible. Our chart digitisation service converts these analogue data to the modern digital data we are all used to.

Chart scanning and data identification

Our partners are experts in scanning large quantities of water level charts. This converts the data entries, such as water level graphs, from paper format into properly referenced digital images. We then used advanced AI technology to identify the actual data in these images, along with any notes taken at the time.

Validation and data management

We are proud to have developed mature water data management software for decades. We use this expertise and our software to store, validate, and further manage the data transferred from paper format. Much of this can be done automatically, still, we complement this with manual validation using our chart digitisation tool to ensure the highest data quality. This means your data can now be ready to help in your daily work and you no longer have to worry about decaying paper charts

Our promise

Observations from paper to digital to analytics – we make it happen.
Contact our experts
We've been creating water, weather and environmental solutions for 60 years – solutions that are designed to be reliable, robust and flexible to meet your unique needs.
Contact us today to find out more about our solutions and benefits.
Arrange a consultation
Existing customer?
Visit our support centre
Our sales team in
Matthew Ellison
John Griffiths