News
KISTERS FieldVisits Mobile App: Enhance field data collection with Samsung.
17 October 2023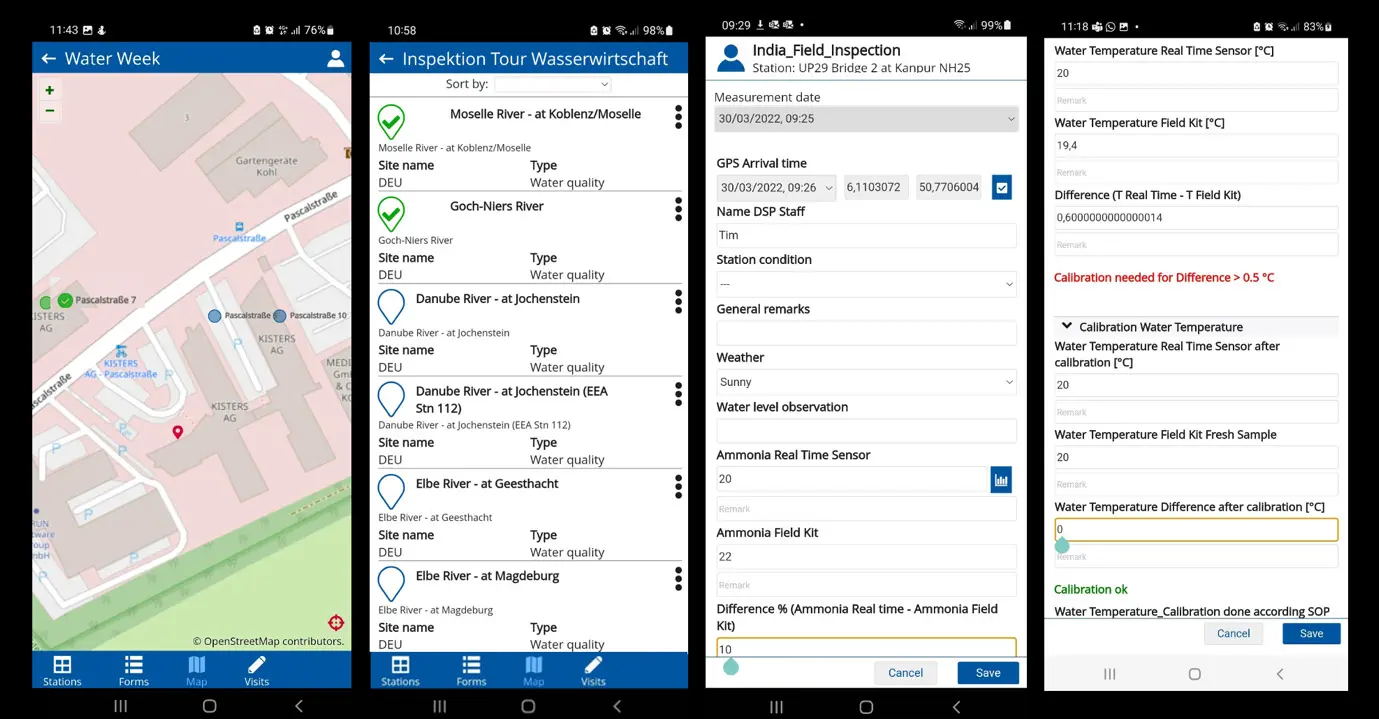 We are delighted to announce an exciting partnership with Samsung to showcase an innovative solution for field data collection that leverages the exceptional capabilities of Samsung mobile devices. Our KISTERS FieldVisits mobile app is set to transform the way organisations collect, manage and maximise the quality of field data, making it more efficient and accurate than ever before.
Watch samsung video
Improving field data collection.
KISTERS FieldVisits is a configurable mobile app designed to empower field workers by making data collection during site visits a breeze. This revolutionary app eliminates the need for time-consuming manual processes and ensures more accurate, paperless data collection.
The power of Samsung devices.
Even though FieldVisits works across IOS and Android, there is no denying the exceptional performance of Samsung devices which this video demonstrates their impressive capabilities. When equipped with KISTERS FieldVisits, these devices become invaluable tools for field technicians. They can effortlessly capture observations, perform calculations in the field and ensure data completeness, all within the familiar and intuitive Samsung interface or a robust and water-resistant mobile such as the Samsung Galaxy XCover6 Pro.
Seamless integration and data management
Once field technicians return to network coverage, KISTERS FieldVisits automatically synchronises their collected data with WISKI, providing a seamless and efficient way to manage data. This feature allows information to be easily associated with monitoring stations, sampling locations and monitoring points, simplifying data management.
Simplified user experience
The FieldVisits application ensures that field staff are guided through standard operating procedures or site-specific protocols using checkboxes, drop-down menus and multiple-choice questions. This standardisation streamlines data entry and reduces the risk of missing critical information.
Enhanced observations and documentation
Field staff can use the app's features to enhance their site visit notes with open text fields and photo attachments, further enriching the data collected during their visits. In addition, the app provides quick access to equipment manuals to assist field staff with calibration, maintenance and repair tasks.
A partnership that transforms fieldwork
The collaboration between our FieldVisits app and Samsung devices has the potential to revolutionise field data collection. It empowers field workers, simplifies data management and ensures data accuracy. This powerful combination will be a game changer for industries ranging from environmental monitoring to field research.
There is no doubt that this app will revolutionise the way field data is collected, setting new standards for efficiency and accuracy in the industry. Through our partnership with Samsung and compatibility with iOS and other leading platforms, we're paving the way for a brighter future where data management is simplified, fieldwork is more efficient, and your organisation gains a significant advantage in data collection and analysis. Don't miss out on this transformative journey; embrace the future with FieldVisits today.
Want to learn more about the FieldVisits app or book a free demo?
Get in touch with us today.
Contact us
Share this